Playoff or Takeoff? Colin Cowherd Picks Which Fringe NFL Teams Are For Real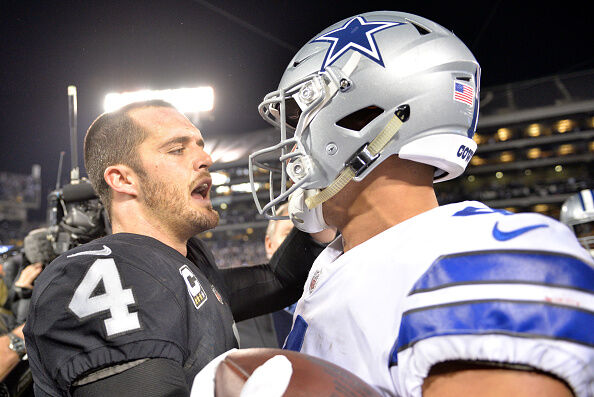 PLAYOFF or TAKEOFF: Which NFL Teams Are Taking Off For the Playoffs or Taking Off For Vacation?

(Full Audio at Bottom of Page)
Philadelphia Eagles (5-4): "TAKEOFF. Desean Jackson is gone and I don't get a deep threat. They're a very good running team who throws well on play-action, but when I look at them they're inconsistent and have never beaten Zeke or been able to stop him. Tough schedule coming up and they'll be on the outside looking in."
Minnesota Vikings (7-3): "PLAYOFF. This team has an IDENTITY. They play really good defense and run the heck out of the football. They've got some real winnable games coming up and this is a playoff team."
Carolina Panthers (5-4): "TAKEOFF. Kyle Allen didn't have a pick in his first five games but now teams have film on him and he has five INTs in the last three. Allen was a nice transition piece but he's hit a wall. They're last in red zone offense and 26th in third down defense."
Los Angeles Rams (5-4): "TAKEOFF. They have a crisis on their mangled offensive line, and they're walking on eggshells with Todd Gurley. I like their defense but Jared Goff has 14 turnovers now and as a team they have the most turnovers of any team over. 500. They're just not very good and not very efficient offensively."
Dallas Cowboys (5-4): "PLAYOFF. They don't know what their identity is but they're number one in total offense, number one in third down offense, and they've only allowed 11 sacks all year. When you have one of the best offensive lines in football and multiple pieces on offense, that's a playoff team."
Buffalo Bills (6-3): "TAKEOFF. They haven't beaten a team with a winning record all year and they will wilt down the stretch. They're not very good offensively and the more I see of Josh Allen the less I like him. It's a well-coached team with an incredibly low offensive ceiling."
Pittsburgh Steelers (5-4): "PLAYOFF. Mike Tomlin has never had a losing season and he's actually 15-10 overall without Ben Roethlisberger. This is the best offensive line in the NFL."
Indianapolis Colts (5-4): "TAKEOFF. Andrew Luck is a generational talent, and Jacoby Brissett isn't. They aren't special offensively and are very TY Hilton dependent on the perimeter. This is a very young team and I see them losing a lot down the stretch."
Oakland Raiders (5-4): "PLAYOFF. I think the Steelers and the Raiders make the playoffs. They're fourth in third down offense, they have only allowed 12 sacks all year (3rd fewest), Derek Carr throws in a very clean pocket, and they can run the football with Josh Jacobs. This is an OFFENSIVE LINE story."

The Herd with Colin Cowherd
Want to know more about The Herd with Colin Cowherd? Get their official bio, social pages & articles on FOX Sports Radio!
Read more