Colin Cowherd: Welcome to the Golden Age of NFL and NCAA Quarterbacks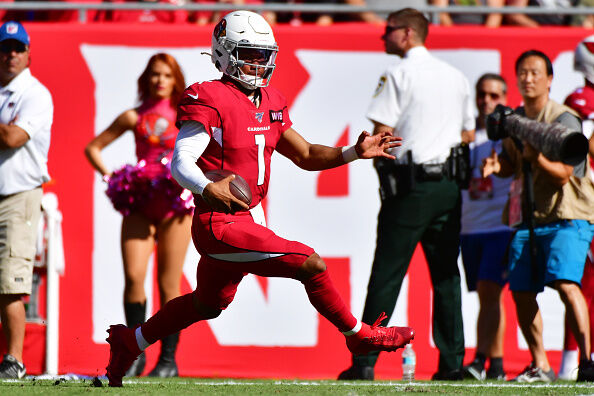 Colin Cowherd:

"This weekend I'm watching Tua, Joe Burrow, Kyler Murray, Sam Darnold, Dak, and Lamar Jackson… I was thinking that we've gotta stop treating quarterbacks like they're either a 'POCKET' guy, or a 'MOBILE' guy. I want BOTH. There are very few elite offensive lines left in this sport, and they are deteriorating badly in this era of spread offenses. Guys like Rivers, Brees, and Goff are not the same player if they don't have a great offensive line. If my pocket guy is not elusive I'm OUT on him. When LSU and Alabama are getting into shootouts, you know football has officially changed. Even Nick Saban can't stop anybody. This is an incredibly exciting time now for football in America. I LOVE the quality of football now on Saturdays and Sundays. Football has never been more fun to watch at the quarterback position"

(Full Audio at Bottom of Page)
Listen to Colin Cowherd explain why he thinks the sport of football has entered its Golden Age at the quarterback position, as a new era that has used new rules to phase out the defense has triggered a revolutionary generation of signal callers.
Colin says both college and pro football has reached its apex in the entertainment category with modern day offenses that favor dual threat quarterbacks over statues. Whether it's Lamar Jackson or Kyler Murray in the pros, or Tua Tagovailoa or Joe Burrow in college, Colin says the best players in the sport better be able to make plays with their feet.
Colin says stiffer salary caps in the NFL have made it more difficult for teams to hold onto elite offensive linemen, and the only way to offset that problem is to produce shotgun offenses with mobile quarterbacks able to alleviate those weak protections.
Check out the audio below as Colin details why football has never been more fun to watch.

The Herd with Colin Cowherd
Want to know more about The Herd with Colin Cowherd? Get their official bio, social pages & articles on FOX Sports Radio!
Read more