James Harden is Never Going to Win an NBA Finals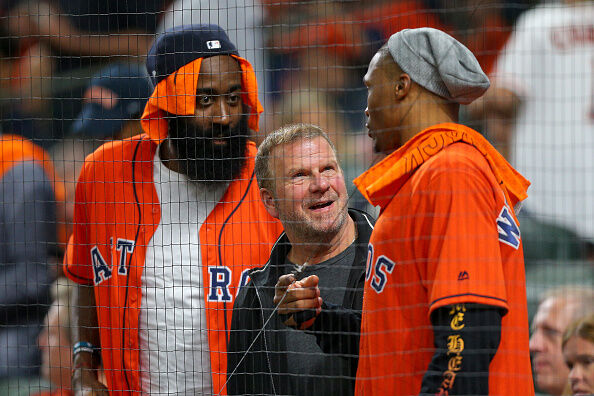 Chris Broussard:

"James Harden is averaging 38.2 points per game, which are historic numbers. We're early in the season but this would finish as the fifth most points per game in a season in NBA history (behind three seasons from Wilt Chamberlain and one from Michael Jordan). While we might applaud Harden, and I mean he is a straight up baller, BUT there is no way that he and Russell Westbrook will win a championship. What Harden needs to do is not set some sort of scoring record, it's WIN A RING. You will NOT win a ring averaging 37 points a game. Of the top 50 individual scoring averages in NBA and ABA history, only TWO of those players won championships. Michael Jordan who did it twice, and Kareem Abdul-Jabbar who did it once. Jordan's average when he won the championship was 32.6, which was the highest individual scoring average ever on a championship team. NO PLAYER IN THE HISTORY OF THE GAME HAS EVER AVERAGED MORE THAN 32.6 POINTS PER GAME AND WON A CHAMPIONSHIP THAT YEAR."

(Full Audio at Bottom of Page)
Listen to Chris Broussard explain why he doesn't think a volume scorer like James Harden will ever win an NBA Finals ring, as Harden is in the midst of what could go down as one of the greatest offensive seasons in league history through 11 games.
Harden leads the NBA in scoring by a wide margin at 38.2 points per game, and appears to interested in beating Michael Jordan's modern scoring record of 37.1 that MJ notched during the 1986/1987 season for a 40-42 Chicago Bulls team during his third year as a pro.
Check out the audio below as Chris details why scorers like Harden will never win championships, as he focuses on a stat that points out the fact that no player in league history has ever won an NBA Finals ring averaging over 32.6 points per game (MJ averaged 32.6 in 1992/1993).

FOX Sports Radio
Want to know more about FOX Sports Radio? Get their official bio, social pages & articles on FOX Sports Radio!