NBA Players Don't Respect Steph Curry Because They Know He's Overrated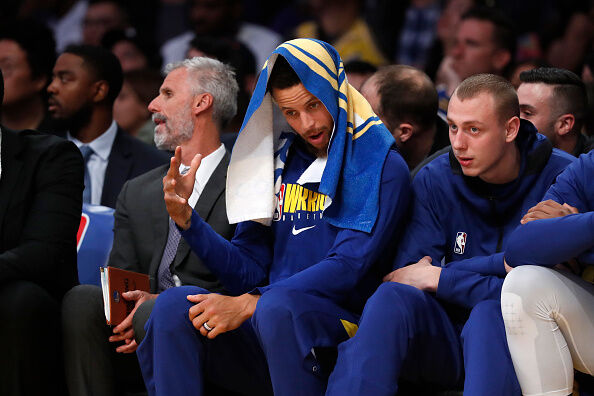 Rob Parker:

"Steph Curry ain't THAT GUY and people don't have any fear of him. These players knew that Steph needed Kevin Durant in order to flex his muscles. The last time I heard Steph was the best player in the NBA they were choking down a 3-1 lead in the Finals. He can do all that shimmying and shaking but when it matters most? Last year when Klay wasn't on the court and Durant wasn't on the court? He had a three ball to snatch the hearts away from Toronto and force a game six and he did what he normally does in those situations... HE MISSED IT. He can make the circus shots when the Washington Generals are out there but he can't make it when it matters most. Opposing teams should do whatever they can to get him a doctor and get him out there so they can rub it in his face, drub him, and run him over."

(Full Audio at Bottom of Page)
Listen to Rob Parker and Chris Broussard discuss a recent column penned by Bleacher Report writer and FS1 NBA analyst Ric Bucher that talks about how NBA teams were getting great enjoyment of beating down the Golden State Warriors when Steph Curry and Draymond Green were healthy.
Now, The Warriors are 2-6 in a lost season and putting out arguably the worst starting five in the NBA, but even with both Steph and Draymond playing, they were 1-3, including getting blown out by the Suns when Curry broke his wrist in that ill-fated fourth game.
The article mentions how it was the league 'paying back' Steph and Draymond for all their arrogant antics with Kevin Durant long gone and Klay Thompson out for the year with a torn ACL.
It's been well documented that Curry is one of the least liked players in the NBA, with many theories centered about the 'jealousy' towards Steph's affluent background. Rob, however, has a different hypothesis.
Rob believes NBA players never liked Steph because they knew he was simply Durant's yappy sidekick and not the guy any opposing teams really feared. Rob says Steph's value came in the form of circus shots against the NBA's worst teams, and says Steph is synonymous with coming up the smallest on the biggest stages during high leverage moments in the postseason.
Check out the audio below as Rob details how overrated Steph really is.

FOX Sports Radio
Want to know more about FOX Sports Radio? Get their official bio, social pages & articles on FOX Sports Radio!