'All Hell Broke Loose': The DC Sniper Spree On Monster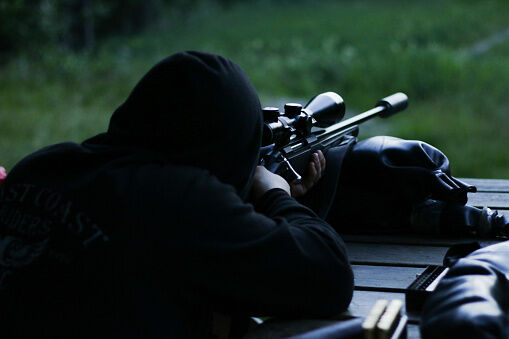 Monster: DC Sniper is focusing on the terror-filled days of early October, 2002, when a sniper started randomly shooting innocent civilians in the streets in Washington DC, Maryland, and Virginia. Over three weeks, the sniper killed ten people and wounded several more. The shootings were random, with no apparent connection or motive, baffling investigators; victims were all ages and backgrounds, going about a normal task when they were killed: shopping for groceries, waiting for the bus, mowing the lawn, filling up their gas tank. On this episode, host Tony Harris, who was a news anchor in Baltimore at the time of the murders, sits down with the chief of police, homicide detectives, and witnesses to learn about the first days of the killing spree. What's clear is the fear, confusion, and grief the entire community was feeling during these attacks: "The people of Maryland looked to their televisions, to journalists like me, for answers. But we didn't have them," he says. "What emerged over the following weeks was one of the most disturbing crime sprees in the history of our country." Now, the Supreme Court plans to rule on the case, and it's possible the killer could go free. "I want to find the answers to questions that have haunted me all these years," Tony continues. "What was the killer's motive, and should they ever be given a second chance?"  
The first victim, James Martin, was killed in the parking lot of a Shoppers Food Warehouse in the early evening of October 2; homicide detective Patrick McNerney, who handled the investigation, says James parked near the front, got out of his car, "takes five or six steps, and then he goes down. And we see there's nobody standing near him. So now we have to train our thinking, it's not a walkup and shoot. We're looking at a long-range shot." But who would want to kill a mild-mannered and well-loved general store worker? It seems "utterly random," Tony says, until they realized that less than an hour before James was gunned down, a shot had been fired into a Michael's Craft Store, narrowly missing a cashier. Since no one was hurt, they assumed it was a misfire or an accident, but the timing was too coincidental to be an accident. "You could really almost assume that they're connected, and ultimately they were," Patrick says. 
James was the only victim that day, but that all changed the next day, October 3. Just as Patrick was briefing his captain on James Martin's case, new calls started coming in. Captain Bernard Forsythe, the then-Director of the Major Crimes Division of the Montgomery County Police Department, sums it up succinctly: "I think it's fair to say all hell broke loose." Dive into the first dark days of the sniper's spree on this episode of Monster: DC Sniper. 
If you want to be sure you're listening to the podcasts everyone else is checking out, iHeartRadio has you covered. Every Monday, iHeartRadio releases a chart showing the most popular podcasts of the week. Stay up to date on what's trending by checking out the chart here. There's even a chart just for radio podcasts here, featuring all your favorite iHeartRadio personalities like Bobby Bones, Elvis Duran, Steve Harvey and dozens of others.
Photo: Getty Images